RI Divorce Mediation Center Staff
Lori A. Grover, N.C.P.M., President
Lori Grover's professional credentials could best be described as uniquely qualified. A Divorce & Family Mediator, divorce financial strategist, author of numerous articles on divorce related financial issues, Lori has a passion for helping couples manage and settle their divorce in a sensible, respectful way which reduce the expense, conflict and stress on the couple and especially their children.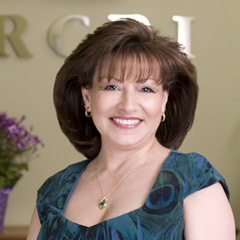 In 2008 Lori received her professional Mediator training with Lakewood College, a nationally accredited mediation training institution offering a curriculum exceeding the minimum divorce and family mediator requirements legally required in all fifty States and has since earned her Professional Mediator certification by the National Association of Professional Mediators.
Lori is the founder and co-owner, with her husband Kevin, of the Rhode Island Divorce Mediation Center; a founding member of the Academy of Professional Family Mediators, an organization dedicated to establishing uniform training and certification standards, practices and continuing education programs for professional family Mediators; a member of the Advisory Board of Lakewood College where she was named 2012 Mediator of the Year; has taught divorce preparation at The Learning Connection in Providence, RI; written numerous articles on divorce and is presently working on her first book.
A divorced parent herself, Lori faced many of the very same struggles and challenges divorcing couples face when starting over and this personal experience enables her to not only help her clients create a sensible, fair divorce settlement using her skills as a Mediator but also to help them avoid the emotional and financial traps that plague many divorced couples afterward. Virtually all Mediation professionals bring an additional skill set to the mediation table that benefits their clients and Lori is no exception. In addition to her skills as a mediator Lori's 15 year career background in the consumer finance industry has made her expertly qualified to help her clients manage two of the biggest challenges divorcing couples face: managing debt and the fate of the family home.
Lori's experience in the fields of home finance, credit repair and debt management enable her to help divorcing couples minimize the financial fallout of divorce and create smart, effective strategies and solutions to help them both achieve the best possible financial outcome given their circumstances, income and resources. Lori assists her clients in the creation of divorce settlements and co-parenting agreements that are fair and work to the to the benefit of both parties which has been proven to dramatically reduce the financial hardship, bitterness and on-going animosity many couples experience after divorce and make the recovery process much easier on the couple and healthier for their children.
The Rhode Island Divorce Mediation Center has earned an enviable reputation for exceeding their client's expectations which is evidenced by the referrals we receive from former clients, the heartfelt, independently verified testimonials which can be found here on the Proven Credible web site and more recently by the RI Divorce Mediation Center's designation as an Accredited Business by the Better Business Bureau.
A divorced (and now remarried) mom and successful businesswoman, Lori actually discovered the benefits of divorce mediation by accident. Over 18 years ago when divorce mediation was unknown outside of the more legally progressive minded areas of the US and elsewhere and against the advice of their attorneys, family and friends she persuaded her ex-husband to join her in negotiating their own divorce settlement to avoid the enormous legal expenses and conflict that was developing for the sake of their young daughter. And while they were successful in creating a settlement, like many divorces, recovery – especially financial recovery – took years, mainly due to poor if any financial planning before and during their divorce.
In the years that followed Lori found herself interacting professionally with a great number of divorcing couples and recently divorced individuals and she recognized the need for couples going through a divorce to not only get divorce advice and information from less adversarial minded legal professionals, but also the need for good divorce advice from other professionals in fields such as accounting, taxes and real estate at the appropriate time to help them prepare and manage the divorce process in a better way; a way that minimizes the financial damage and emotional fallout so common in divorce, so she founded the Divorce Resource Center of Rhode Island in 2006 which was rechristened the Rhode Island Divorce Mediation Center in 2011.
Lori's passion for the benefits mediation offers divorcing couples inspired her to train to become a certified professional mediator specializing in divorce and family conflict and she has since successfully helped hundreds of couples create a divorce settlement to help them end their marriage peacefully and settle their financial affairs fairly and sensibly. Many professional mediators bring an additional skill set to the mediation table that benefits their clients and Lori is no different in this regard. As an unstable economy, a weak job market, soft home values and excessive consumer debt make the average divorcing couple's ability to divide one household into two even more difficult, Lori's professional home finance and credit repair experience has become especially helpful by enabling her to help her mediating clients develop smart, cost effective strategies and solutions to help them achieve the best possible financial outcome given their circumstances, income and resources.
Kevin J. Grover, Vice-President
Kevin Grover, a divorced dad (now happily remarried to 'The Boss') with 25 years of experience in sales, business management and marketing is the Divorce Mediation Center's CFO,  Operations and Marketing Manager. In addition to the day to day business operations, Kevin assists the Divorce Mediation Center's clients with task of collecting and organizing all the necessary financial and monthly living expense documentation couples need when preparing to divorce. This benefits the Center's clients in two very important ways: First, the information is used to create detailed asset, property and budget reports which the couple then uses during their divorce mediation sessions which, by having everything to be discussed at their fingertips, eliminates any guesswork or especially suspicion between them. This makes the divorce mediation process smoother and more productive because everything's "on the table". Secondly, once the couple agrees on their divorce settlement they're provided with updated reports reflecting the final results of their agreement which they can then use or provide to their attorneys for preparing the financial asset and expense affidavits the court requires saving them both a lot of time and effort. As a divorced father and a man who's lived with the fallout from divorce from a young age, Kevin shares Lori's passion and commitment to help couples minimize the damage divorce can cause, especially to the children involved.
---
Company Mission Statement
To instill confidence, encourage self determination and educate' empower' and support our divorcing clients and their children as they navigate and endure the financial and emotional problems, challenges and lifestyle changes that are a part of every divorce.
To work collaboratively on behalf of our clients with our network of qualified local professionals in the fields of Law, Accounting, Real Estate, Financial Services, Mental Health Counseling and other related services to ensure that our divorcing clients and their children remain financially secure and emotionally healthy during and after their divorce.
To provide the highest quality professional Divorce Mediation services and ensure that our clients are given accurate, reliable information to assist them in making sensible' well informed decisions that will help them successfully divorce and go on to live fulfilling, rewarding, productive lives in the future.
---